Start to Finish Planning for Trial Success
August 17, 2016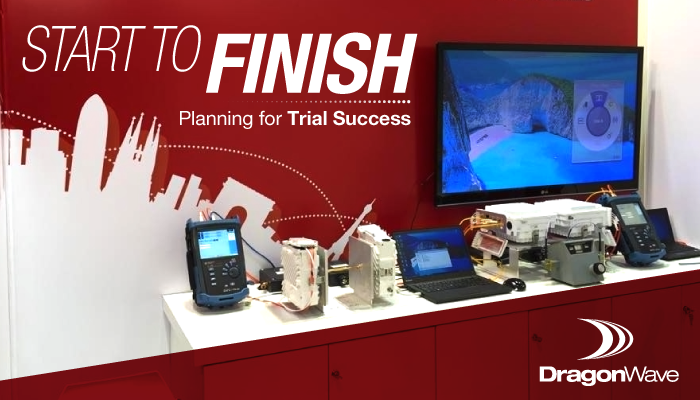 DragonWave regularly conducts product trials, primarily to give customers a better understanding of new product offerings before they deploy them in their network.  To ensure success of these activities, DragonWave has a dedicated trials organization with a complete trial process. DragonWave typically supports 5 types of trials:
Trade Show Demo – Basic performance and overview at Sales convention or customer meeting.
Try and Buy – Verify key performance parameters in a live environment before purchasing equipment.
Lab Trial – Trial testing and characterizing key performance parameters as well operational functionality, such as user interface, performance monitoring and alarms.
Interoperability Trial – Testing with other network equipment to understand interactions in the customer environment.
Field Trial – First field implementation trial of a new product or network offering in cooperation with customer and other vendors as required in a controlled but live environment.
The key to success in any of the trial environments discussed above is to fully follow the defined process which ensures proper trial execution from conception to completion.  Below is the DragonWave Trials Process flow chart.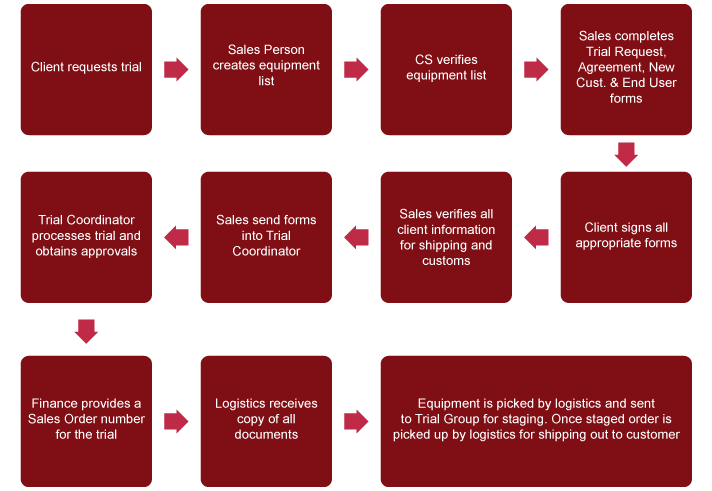 Implementation:
Once a Trial is approved and the Material list is confirmed, it is shipped to the DragonWave Trials Lab. The actual equipment targeted for the end customer is fully staged by DragonWave prior to final shipment.
This staging process pre verifies the anticipated testing environment and characterization, ensuring all settings are correct and proper accessories are included. DragonWave, both in its own lab staging, as well as customer lab trials, utilizes the capabilities of LinkView for setup and monitoring and settings changes.

Focus on Latest MW Products:
DragonWave has recently launched three new products to the market, the Harmony Enhanced, Harmony Enhanced MC, and Harmony Eband.  DragonWave's recent trial activities have been focused on these three products, each having much different characteristics and, therefore, significantly different test plans.  Each of these products are all-outdoor systems and include Bandwidth Accelerator, which offers the industry's only bulk compression, which significantly improves throughput.
Results and Customer Feedback:
The parameters and performance verified in a trial activity will vary widely by customer.  DragonWave will work with the customer to record the performance for each test and to determine if the expected result was achieved.  When testing is completed, the customer will sign off on a complete test report.  Some of the key parameters often tested in a trial activity include:
EOAM Service Assurance and Service Delivery
(Q-Scope)
Capacity Provisioning
QoS (Congestion Testing)
Time Synchronization
Remote Management
SNMP Compliance (v2c,v3)
Alarm Generation
Alarm Timestamps
Performance Reporting
Event Logs
Fault Management
SW Upgrade/Downgrade
4G Simulation Call
Vulnerability Security Scan
Key Element to Trial Success:
The primary objective is to ensure that the first "Customer Experience" is a positive one with no surprises by addressing the following key elements:
Product or Solution completely staged in Kanata, prior to shipment. "What the Customer receives" has been tested and verified to stringent requirements.
Assistance to customer to either develop a test plan for them or critique and modify their existing test plan to suit the products being tested.
An end-to-end trial process that binds the work of R&D, Operations, Sales and Product Management together.
A dedicated team of the "right people" with Trial Success as their Number 1 Mandate to develop and deliver training modules, MoPs and Configuration guides.
A feedback loop back to Operations and R&D on issues, areas needing improvement, as well as the Positives.