Carrier Grade Made Simple
November 08, 2016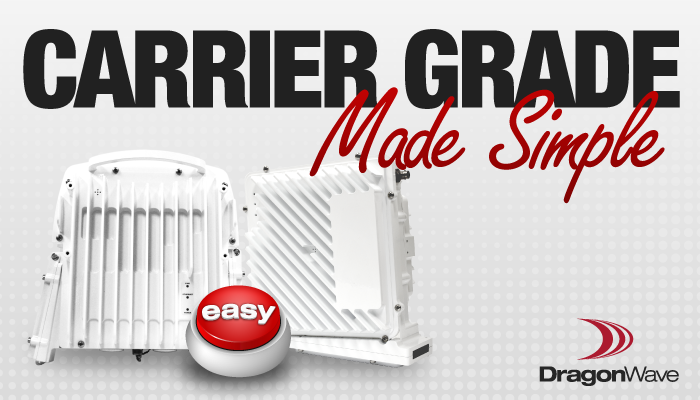 We have received a lot of positive feedback around our Harmony Enhanced and Harmony EnhancedMC products, which we have been showcasing to customers and partners through training courses, field trials, lab trials, webinars and product presentations. The response hasn't been a big surprise, because we knew we were on the right track with industry leading transmit powers, multi-gigabit per second throughputs, and a comprehensive set of switching features.
In addition to those key differentiating features, we continue to get great feedback around our ease of set up and commissioning, which are things that do not necessarily jump out on a datasheet, but that can really resonate with people using and installing our equipment. With installation costs sometimes coming in at more than double the equipment costs, every minute gained through installation efficiencies can translate into significant savings. Some of the unique DragonWave features and functionalities that simplifies achieving carrier grade networking include:
Intuitive and Powerful WebGUI – This is not a unique or revolutionary concept, but something that we've been recognized for doing well in our space.  DragonWave's integrated LinkView web interface is common across all of the Harmony next-generation ODU's (Harmony Enhanced, Harmony EnhancedMC, and Eband), and offers basic to advanced configuration settings in a common look and feel.  It also offers the ability to:
Access "Quick Config" settings to get alignment parameters (transmit power, modulation, etc.) entered quickly to begin alignment
Configure both ends of the link from one terminal, quickly viewing settings and statistics for both units
Make changes to far-end management settings without losing management access
Make dynamic changes to modulation, TX power, and many other settings, without the need for a device reboot
Always-On RSL Indicator – The BNC connector on the ODU provides real-time receive signal level (RSL) output.  An installer can simply connect the BNC output to a digital multimeter to display the RSL as a direct voltage reading. A multimeter reading of 36mV corresponds directly to an RSL of -36 dBm, with no mapping or lookup table required, and no need to enter into a specific device alignment mode.
Common DragonWave Antenna Interface – Harmony Enhanced and EnhancedMC ODU's directly mount onto the same antenna interface as DragonWave's previous generation radios, without using any bolts, screws, or tools.  Polarization is adjusted by simply rotating the radio ninety-degrees on the antenna for Harmony Enhanced, while Harmony EnhancedMC has an integrated OMT that does not require any polarization adjustment, and is always oriented the same with its handle up.
Cable Enclosure Supporting Standard Connectors – Harmony next-gen ODU's make use of an IP66-rated cable enclosure, where standard Cat5e and SM/MM fiber can be used with standard RJ45 and LC-duplex connectors. No special glands or connectors are required.
While these points will never steal the spotlight, the little things really can add up. Any installation or configuration headache the manufacturer can eliminate upfront saves time and money for operators. Towards that end, DragonWave places a good deal of emphasis on collecting customer feedback and incorporating it into product design and development for more simplified carrier grade solutions.