Award Winning Harmony EnhancedMC for Rural Broadband
January 25, 2017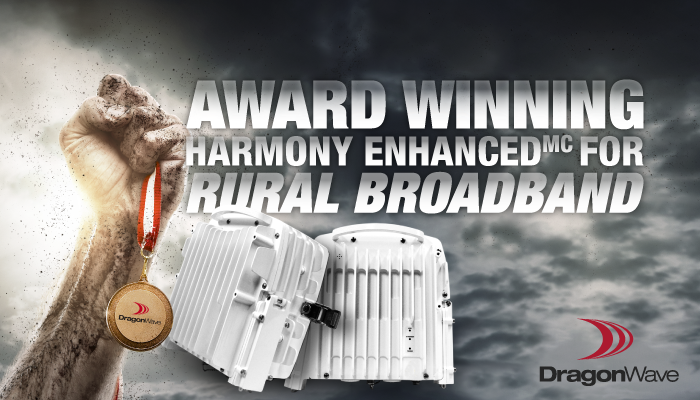 The introduction of DragonWave's Harmony Enhanced Multi-Channel (MC) has significantly improved the economics and performance for high capacity rural applications.  One important contributing factor is that the Harmony EnhancedMC has the highest microwave system gain in the industry, enabling long paths for rural connectivity, without requiring extra-large antennas.  So what operators are finding is that they can reduce equipment cost, installation cost, as well as ongoing monthly recurring tower lease costs.  What's more, taking the radio's high system gain into account, one finds that long paths that may not have otherwise been feasible wirelessly now become a possibility. 
Harmony EnhancedMC is also an all-outdoor system, which enables installation on structures that are not traditionally designed for telecom, as no indoor rack space is required.  The Harmony EnhancedMC is a dual channel, 4096QAM system with integrated bulk compression, delivering >4Gbps in a single link, which makes it ideal as an alternative to fiber for next generation rural services.  And, because Harmony EnhancedMC comes with integrated switching, no additional hardware is needed. The Harmony EnhancedMC is also fully manageable remotely, and uniquely uses standard RJ45 connectors, and eliminates the difficult installation of weatherproof glands due to the innovative cable enclosure on the radio.
This combination of capabilities, as well as an integrated alignment utility, ensures the lowest installation cost on the market. As a result, the Harmony EnhancedMC was recently announced a winner in this year's Fierce Innovation Awards: Telecom Edition, a carrier-reviewed awards program from the publisher of FierceWireless, FierceTelecom and FierceCable. DragonWave was named winner in the category Rural Wireless Networks for its innovative, industry-leading product Harmony EnhancedMC.  The distinguished team of judges included:
Dan Murphy, Director, Verizon Innovation Program
Mattias Fridstron, VP and Head of Technology, TeliaSonera
Ron Marquart, PH.D, VP of Technology, Innovation&Architecture, Sprint
David A. Mayo, Sr VP, Technology, T-Mobile USA
Michael Weston, Senior Executive, Verizon
Rob Howald, VP, Network Architecture, Comcast
Douglas Britt, Principal/Founder, Dream Build Run
The judges called out the Harmony EnhancedMC for its pioneering use of GaN technology and the associated power advantage that provides higher capacities and lower co-location costs using smaller antennas.
If you're looking to plan an ultra-high-performance, cost effective rural broadband network, Harmony EnhancedMC comes with DragonWave's industry-leading installation services and network planning to ensure you take full advantage of this award-winning radio's features and capabilities.
For more details on the award-winning Harmony EnhancedMC, and why it's ideally suited for rural broadband applications, read the DragonWave press release and watch our newest video on Harmony EnhancedMC.