Getting Ready for 5G with DragonWave
May 25, 2016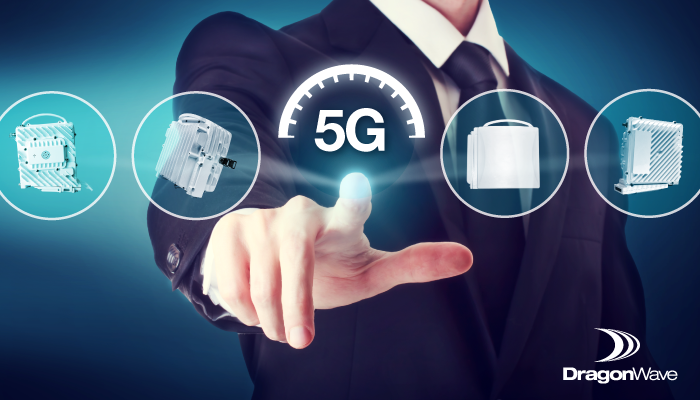 Welcome to the premier posting of the new DragonWave blog that is intended to provide a medium for insight and discourse that can generate ideas for improvements and innovation. We welcome your input and invite you to join an ongoing discussion covering backhaul, small cells, and all other matters related to the mobile wireless industry.
With 5G standards still 2 years away, and standards based deployments likely not starting until 2020, there are still a lot of unknowns around the details of 5G and the underlying technology.  However, there are some certainties around the direction it will be heading, and some of the impacts to backhaul requirements.  Let's take a look at a few of the 5G certainties as it relates to backhaul:
5G Backhaul Requirements:
Capacity – With a goal of delivering more than 10 times the capacity per device of LTE, it is a certainty that 5G basestations will require very high capacities in the Gigabit per second and beyond range.
Delay – 5G networks are targeting next-generation applications, such as self-driving cars, which will require very low one-way delays of less than 1 ms end-to-end.  Backhaul will need to consume a minority of that, requiring backhaul latencies in the few hundreds or less of a microsecond.
Network Densification – In order to deliver higher capacities, and as a result of higher band spectrum likely being used, the 5G networks will require significantly more basestations, and they will need to be deployed at street level to deal with some of the propagation limits of the >6GHz frequency bands.  This will drive a very dense small cell architecture that requires very compact, urban friendly backhaul systems.
Network Intelligence – With the introduction of network slicing, and the drive to rapid delivery of services, 5G will be a much more dynamic architecture requiring all elements to rapidly allocate resources.  This will require end-to-to-end SDN and re-configurability capabilities.
Getting your Network Ready with Today's Products
DragonWave's microwave products are future ready, delivering capabilities and upgradability now to get your network ready for 5G.  Key features that enable network evolution with DragonWave products include:
Multi-Gigabit Scalability – DragonWave's Harmony Enhanced, Harmony EnhancedMC, and Harmony Eband products all deliver scalability beyond 2 Gbps with the minimal amount of spectrum to ensure your network can scale.  Harmony Eband delivers up to 4Gbps on a single link in the 70/80GHz bands, and Harmony EnhancedMC can deliver up to 6 Gbps in 6-42GHz bands by utilizing 4096QAM, bandwidth accelerator+, 112Mhz channels, dual carrier support, and MIMO.  In addition, Harmony EnhancedMC ensures your network is future-proof with a 10GE interface for connecting high capacity next-generation base stations and switches.
Sub-.1 ms Delay – Harmony Enhanced, Harmony EnhancedMC and Harmony Eband all deliver 5G ready delays today, with low delay modes in all three platforms delivering less than 100 microsecond (.1ms) latency
Small Cell BackHaul – With its small cell optimized line of products, DragonWave enables network densification today for the future 5G network architecture, DragonWave's Avenue products are urban optimized to be deployable on street furniture, with integrated mini-antennas, and very small form factors.  In addition, DragonWave's small cell products have integrated Ethernet switching and can be powered over Ethernet to eliminate additional equipment.  DragonWave offers a full suite of products to meet the wide range of street level requirements, including non-line of site connectivity in the sub 6 GHz bands, line of sight transport in area license from 24-38 GHz, 60GHz connectivity, and high capacity 70/80 GHz transport.  DragonWave will also be evolving to antenna steerability in the 60 GHz band to enable rapid, low cost installation, and cater to a wider range of mounting options with increased performance.
SDN-Ready – DragonWave's Harmony Enhanced, EnhancedMC and Harmony Eband will support the necessary Northbound SDN interfaces to enable the flexibility needed for an end-end dynamic architecture that can deliver capacity to the services requiring it.
Building your network for the future today
Although there are still lots of unknowns about the 5G architecture, DragonWave's microwave products and set of next generation features can help you get your backhaul network ready for the evolution path today.